People often write us with questions. This week on the podcast, Lisa and I are answering 8 marriage questions sent in from listeners – they're listed, below. Do any of these apply to you, your spouse, and your marriage?
Questions:
What has been your secret to solving arguments in your own marriage? Is there a way to argue constructively?
Do you believe there are circumstances where a marriage can't be helped? Can all marriages be saved?
What if one person in the marriage is willing to apply the practices from the books (100 Ways to Love Your Husband & 100 Ways to Love Your Wife) but the other is not? Is there a way to convince them?
What are some things a wife could do to make Her Husband feel successful?
What are some things a husband could do to make his wife feel appreciated?
You have 8 children – how do you find time to connect?
Do you both apply the ideas in the book to your own marriage? What are some of your favorites?
Conflicted couples usually lack intimacy. Do you feel as though the books (100 Ways to Love Your Wife & 100 Ways to Love Your Husband) can not only repair but ignite intimacy in a marriage?
If you would like us to answer your marriage question on an up coming episode of FAITHFUL LIFE podcast, just send it to: contact@faithfulman.com
**************************
New Book Recommendation!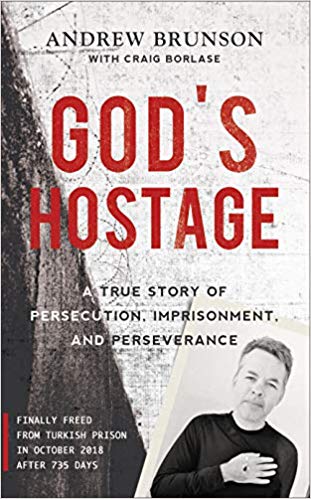 In 1993, Andrew Brunson was asked to travel to Turkey, the largest unevangelized country in the world, to serve as a missionary. Though hesitant because of the daunting and dangerous task that lay ahead, Andrew and his wife, Norine, believed this was God's plan for them.
What followed was a string of threats and attacks, but also successes in starting new churches in a place where many people had never met a Christian. As their work with refugees from Syria, including Kurds, gained attention and suspicion, Andrew and Norine acknowledged the threat but accepted the risk, determining to stay unless God told them to leave.
In 2016, they were arrested. Though the State eventually released Norine, who remained in Turkey, Andrew was imprisoned. Accused of being a spy and being among the plotters of the attempted coup, he became a political pawn whose story soon became known around the world.
God's Hostage is the incredible true story of his imprisonment, his brokenness, and his eventual freedom. Anyone with a heart for missions, especially to the Muslim world, will love this tension-laden and faith-laced book. Highly recommended!

*****************
Friends, would you like to be partners, supporting FAITHFUL LIFE podcast, FaithfulMan.com, Club31Women.com? The generosity of faithful ministry partners helps us to continue to offer these resources. Here is what we're asking:
Become partners with us and support this ministry, CLICK THIS LINK and please make a monthly donation.
*****************
Matt Jacobson is a biblical marriage coach and founder of FaithfulMan.com a biblical marriage, parenting, and discipleship ministry providing written and audio teaching, as well as couples marriage coaching. He is the co-host (with his wife, Lisa) of Faithful Life Podcast and is author of the bestseller, 100 Ways to Love Your Wife. Matt is pastor of Tumalo Bible Fellowship and is married to Lisa, founder of Club31Women.com (they have 8 kids!).