Entitled – it's one of the most accurate words to describe the current generation of children right on up to the 30-somethings hanging out in their parent's basements. Society has worked hard to disseminate the message: You Are Owed. And the kids have learned well!
Yet, any time spent with an entitled child that can be cut short, will be. They're miserable to be around. Everyone wants to get away from entitled children, yet many parents persist in teaching their children to think this way.
Are you one of them? Are you one of the parents teaching your children to have an entitlement mentality? Most parents would say they wouldn't want to train their children to think this way, even though the Entitlement Training Program continues apace, day after day, in their own homes.
On a recent trip, I came down early to the hotel lobby. Some time in the Word with a little coffee – perfect! Before long, the breakfast buffet was being laid and people began to arrive, including the mother of a 5-year-old little girl.
"Hey Little Jill, (not her name!) Do you want hot chocolate or milk? You could have strawberry milk or chocolate milk or plain milk! Would you rather have apple juice, orange juice, or cranberry juice?
Little Jill's huge brown eyes passed back and forth, up and down, over the giant cooler display with all the options but all she said was, "Ummm . . ." because Little Jill couldn't make up her mind. About 30 seconds passed before the sweet, understanding eyes and smiles of those waiting for their breakfast turned down and darken, but Jill's mom soldiered right on!
"Would you rather have some yogurt? What flavor would you like: Blueberry, peach, apple/cinnamon, strawberry, cherry, plain? Would you rather have oatmeal or plain yogurt with granola sprinkled on top? Maybe you'd like cereal? There's Fruit Loops, Cheerios, Raisin Bran, or Cornflakes! What sounds good, honey? Would you rather have toast? A muffin? A bagel? If you want toast, would you like wheat or white?"
By now, the breakfast line had grown long and began to resemble the protesters in Hong Kong. "Ummm . . ." Little Jill continued deliberate, squinching up her lips, rocking on her heels and looking from side to side.
What DID she want for breakfast? It's a hard question for little people. Nobody knew. Not Jill's mom and, least of all, Jill.
Now, it might seem like I'm exaggerating a bit but, sadly, I'm not. It was a seminar in how to train a child to feel entitled. The world was brought to a complete standstill as the whims, wants, and desires of a 5-year-old were consulted endlessly. Jill was being trained to turn her eyes inward – to think deeply about what she wanted, to the exclusion of every other person – the exact opposite of what is taught in the Word.
Happiness – it's what every parent desires for their kid's childhood but if there's one decisive lesson life teaches it's that you will never be happy or content focusing on yourself.
How can you avoid raising miserable children with an entitlement attitude? How can you raise your children to stop whining, be truly happy, thoughtful of others, and pleasing to the Lord?
This is our discussion on the podcast, this week: How to Free Your Kids from Feeling Entitled. Join us for the conversation and be sure to share this podcast with a friend you know it would bless!
**************************
Friends, would you like to be partners, supporting FAITHFUL LIFE podcast, FaithfulMan.com, Club31Women.com? The generosity of faithful ministry partners helps us to continue to offer these resources. Here is what we're asking:
Become partners with us and support this ministry, CLICK THIS LINK and please make a monthly donation.
**************************
New Book Recommendation!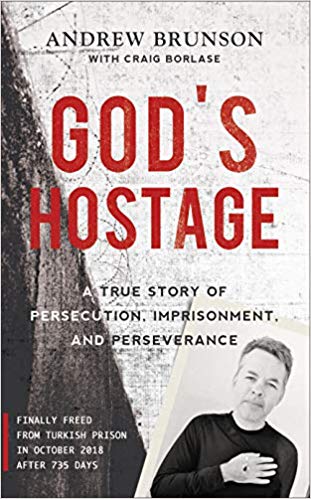 In 1993, Andrew Brunson was asked to travel to Turkey, the largest unevangelized country in the world, to serve as a missionary. Though hesitant because of the daunting and dangerous task that lay ahead, Andrew and his wife, Norine, believed this was God's plan for them.
What followed was a string of threats and attacks, but also successes in starting new churches in a place where many people had never met a Christian. As their work with refugees from Syria, including Kurds, gained attention and suspicion, Andrew and Norine acknowledged the threat but accepted the risk, determining to stay unless God told them to leave.
In 2016, they were arrested. Though the State eventually released Norine, who remained in Turkey, Andrew was imprisoned. Accused of being a spy and being among the plotters of the attempted coup, he became a political pawn whose story soon became known around the world.
God's Hostage is the incredible true story of his imprisonment, his brokenness, and his eventual freedom. Anyone with a heart for missions, especially to the Muslim world, will love this tension-laden and faith-laced book. Highly recommended!

Matt Jacobson is a biblical marriage coach and founder of FaithfulMan.com a biblical marriage, parenting, and discipleship ministry providing written and audio teaching, as well as couples marriage coaching. He is the co-host (with his wife, Lisa) of Faithful Life Podcast and is author of the bestseller, 100 Ways to Love Your Wife. Matt is pastor of Tumalo Bible Fellowship and is married to Lisa, founder of Club31Women.com (they have 8 kids!).